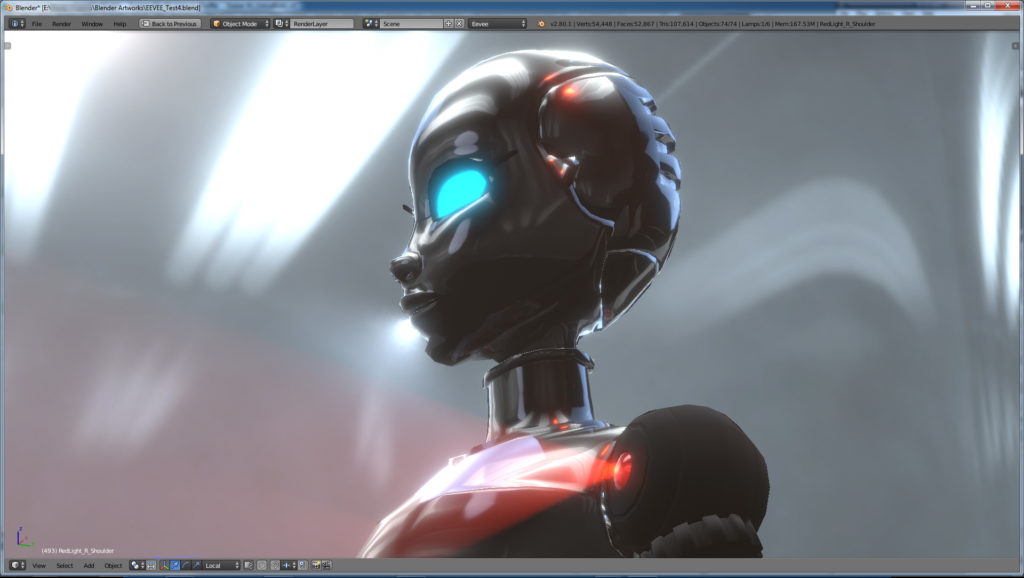 Around a year ago I wrote about how competitive Blender is getting regarding the 3D production. Today I would really like to focus on their most recent accomplishment regarding a realtime viewport with "EEVEE. And I´m guessing those letters represent something around "Easy Environment for Visual Engineering and Expositions"…or something like that. Regardless EEVEE took the 3D arena by storm (yes, again).
You can watch how the Blender institute showcased many goodies like RT PBR and other improvements on their 2016 conference.
Real time graphics on the viewport.
Hey! but I thought Modo, Maya, Max all did that last year already? The answer: Yes, but they didn´t handle features like RT PBR, Voumetrics, Gloom, Motion blur. The only applications who were offering that already on their viewport were Unreal Engine and Unity, and even though they were free to use, most of the 3d-artist couldn´t get their hands to code shaders and make realistic stuff for 3d productions. Some studios even went a step ahead and created an alembic importer for Unity, so they can really take advantage of producing 3D without the need to render. I´ve covered why this is important on a previous article.
EEVEE Roadmap and Workflow
If this is the first time you have thought about having a 3d graphic animation in your software WITHOUT the need to render it (just play the timeline and capture video) I would strongly suggest you read EEVEE roadmap here. In short: You don´t need to waste time waiting for a render to finish. SURE you want to have control over passes and all of that, but that´s a "deprecated" method of production. It takes time, resources and many hours of your health away.
I decided to take Blender 2.8 experimental for a ride. Scroll down the page where it says " These builds are from the Blender 2.8 project. They are for testers and user feedback. Do not use in production. Do not save important files with it." and don´t worry we will just download it to take it for a spin. There´s nothing to install. Just download, unpack, double click to the blender.exe file and you´re set.
UNITY vs UNREAL vs EEVEE
There are main differences in how files are handle for both games engines. Other game engines like #Godot are peaking because it is open source and they have also implemented the BDRF model for shading like Disney´s uber shader. What are the differences between them? While it´s true Unreal has a longer time than Unity, both of them now include amazing effects right on the viewport that rival each other like:
Color grading
Motion blur
Bloom
Animation editor
Custom camera effects
Global Illumination
SSS
PBR and Linear workflow
Unreal is for really advanced shader coders. Unity is pretty forward in that aspect all though it lacks a "proper" material editor. Unity has implemented a couple of addons for shading network. You can get around those HUGE problems by using Substance Designer or Substance painter by Allegorithmic. Your textures will be procedurally generated and SD can even output a shader, while SP can render out textures according to any of the render engines out there using Metalness or Specular workflows for PBR materials.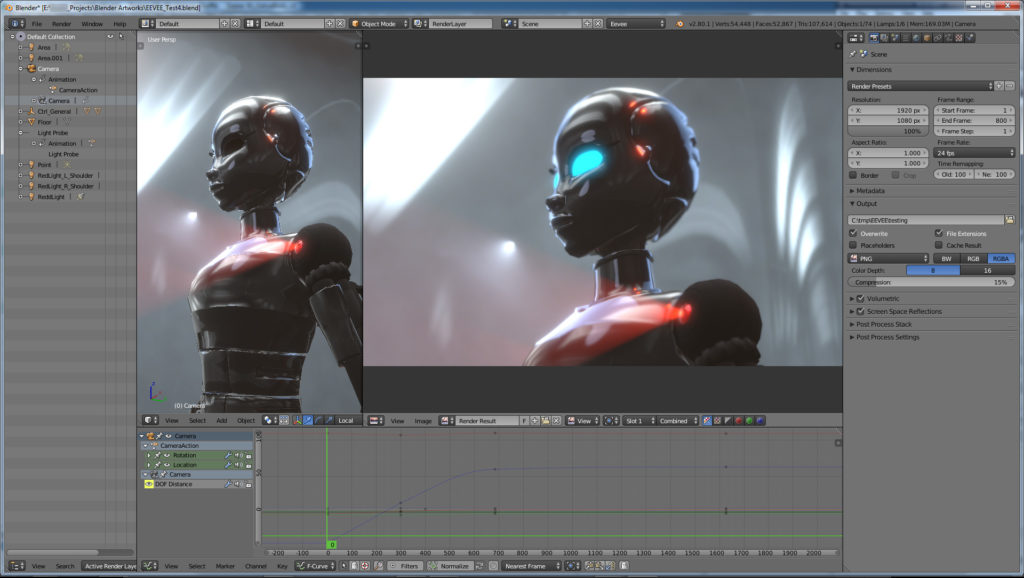 How do I render directly from the viewport?
Go to your Blender Engine RENDER settings. Choose your render size and quality: Basically set up everything according to your needs. Press "N" on the keyboard while hovering on your 3d view to bring the extra properties panel. Scroll to to "Display" and check "Only Render", then press the render button either on the little clapper on the 3dview or the RENDER button on your normal property tab. And watch it away!
Ok, I know you like videos so here´s a complete overview:
EEVEE real time viewport workflow: Yey or Ney? Remember, this Blender build 2.8 is JUST EXPERIMENTAL, can you figure what will it do when it comes to full features?!
Information about the Model: It is the main droid for a short 3d stereo movie I´m doing. So yep, copyrighted. Also, this model is not textured, doesn´t have an armature and I totally forgot to smooth subdivide it on Blender 2.78 BEFORE importing it as a .blend file into Blender 2.8…but YOU did not hear that from me. Thanks to @3DBystedt for the tip!
Pleas share the love for RT viewport on #B3D #EEVEE and #Blender on your nets. Leave your comments below. Thanks.